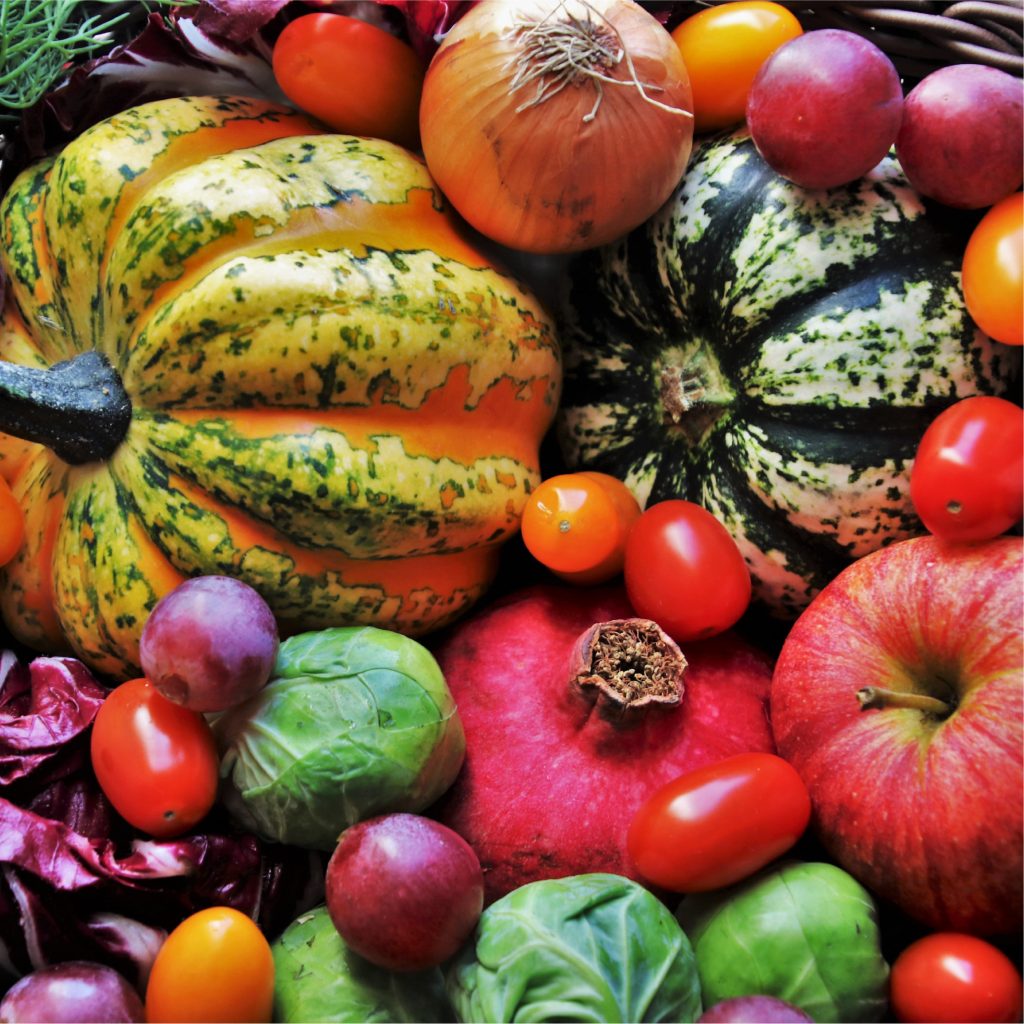 Natural
Natural dyes are obtained from processing natural ingredients. The source can be animals, plants, and minerals. Usually natural dyes have a lower color strength and lower light stability than synthetic dyes. Sources from animals can be obtained from blood (Hemoglobin), fat (Betacarotene), or body (Carmine color from body of red cochineal insects).
Sources from plants can be obtained from their leaves (Chlorophyl, red cabbage), from their fruits (Dragon fruit, grape skin), from their tubers (Turmeric, beetroot, carrots) from stems (vegetable Carbon black), from Flowers (Marogolds, Carmine flowers), and also from the seeds (Annatto).
Natural dyes in food can enter the body's metabolic system, so that it can be used for coloring fish, meat and egg yolks through feed. While synthetic dyes are only passed by and wasted with feces.
In the jelly industry, natural coloring, are move widely used because the color will stick to the jelly and not bleed or fade into the syrup.
Natural Color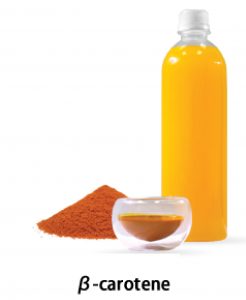 E number : E 160a
Synonyms CI Food Orange 5
Class Carotenoid
Colour Index No 40800
Einecs 230-636-6
Chemical names β-Carotene, β,β-Carotene
Chemical formula C40H56
Molecularweight 536,88
Assay Content Not less than 96 % total colouring matters (expressed as β-carotene)
E ( 1 %,1 cm)    2 500 at WL 453—456 nm in cyclohexane
Description Red to brownish-red crystals or crystalline powder
Identification Spectrometry Maximum in cyclohexane at ca 453—456 nm
Product Range Liquid   : 1~10% (Water-Soluble) / 30% (Oil-Soluble), Powder : 1~10% (Water-Soluble) / 96% (Oil-Soluble)
Application Beverage, Jelly, Pudding, Baked good, etc.
E Number : E 150c
Definition Ammonia caramel is prepared by the controlled heat treatment of carbohydrates (commercially available food grade nutritive sweeteners which are the monomers glucose and fructose and/or polymers thereof, e.g. glucose syrups, sucrose, and/or invertsyrups, and dextrose) with or without acids or alkalis, in the presence of ammonium compounds (ammonium hydroxide, ammonium carbonate, ammonium hydrogen carbonate and ammonium phosphate); no sulphite compounds are used. Einecs 232-435-9
Appearance Dark brown to black liquids or solids
Purity Colour intensity(1) 0,08—0,36 (1) Colour intensity is defined as the absorbance of a 0,1 % (w/v) solution of caramel colour solids in water in a 1 cm cell at610 nm.
Application Beer, cereal, pet food, licorice, confectionery, and gravy, soy, and BBQ sauce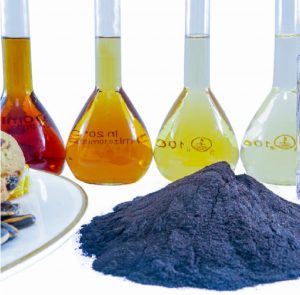 E Number: E 150d
Definition Sulphite ammonia caramel is prepared by the controlled heat treatment of carbohydrates (commercially available food grade nutritive sweeteners which are the monomers glucose and fructose and/or polymers thereof (e.g. glucose syrups, sucrose, and/or invertsyrups, and dextrose) with or without acids or alkalis in the presence of both sulphite and ammonium compounds (sulphurous acid, potassium sulphite, potassium bisulphite, sodium sulphite, sodium bisulphite, ammonium hydroxide, ammonium carbonate, ammonium hydrogen carbonate, ammonium phosphate, ammonium sulphate, ammonium sulphite and ammonium hydrogen sulphite). Einecs 232-435-9
Description Dark brown to black liquids or solids
Purity Colour intensity(1) 0,10—0,60 (1) Colour intensity is defined as the absorbance of a 0,1 % (w/v) solution of caramel colour solids in water in a 1 cm cell at610 nm.
Application Soft drinks and other carbonated beverages, balsamic vinegar, coffee, chocolate syrups, baked goods, cocoa extenders, pet foods, sauces, soups, meat rubs, seasoning blends, and other flavorings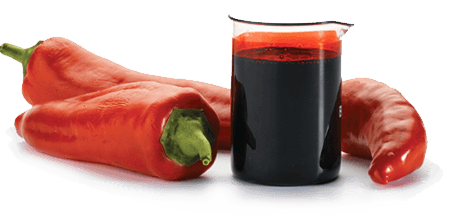 E 160c
Synonyms Paprika Oleoresin
Definition Paprika extract is obtained by solvent extraction of the natural strains of paprika, which consists of the ground fruits pods, with or without seeds, of Capsicum annuum L., and contains the major colouring principles of this spice. The major colouring principles are capsanthin and capsorubin. A wide variety of other coloured compounds is known to be present. Only the following solvents may be used in the extraction: methanol, ethanol, acetone, hexane, dichloromethane, ethyl acetate and carbon dioxide.
Class Carotenoid
Einecs Capsanthin: 207-364-1,
Chemical names Capsanthin: (3R, 3_S, 5_R)-3,3_-dihydroxy-β,kcarotene-6-one
Chemical formula Capsanthin: C40H56O3
Molecularweight Capsanthin: 584,85
Assay Paprika extract: content not less than 7,0 % carotenoids
E (1 %,1 cm)    2 100 atca 462 nm in acetone
Appearance  Dark-red viscous liquid
Identification 1. Spectrometry Maximum in acetone at ca 462 nm 2. Colour reaction A deep blue colour is produced by adding one drop of sulfuric acid to one drop of sample in 2—3 drops of chloroform